---
TecnoSky 6-Element Apochromat
Specifications:
           - Flatfield Apochromatic Refractor
           - Aperture 80mm
           - Focal length 352mm
           - Focal Ratio 4.3
Used for:
-Its fast focal ratio makes it ideal for DeepSky Photography.
-A specially designed diagonal allows viewing Deepsky elements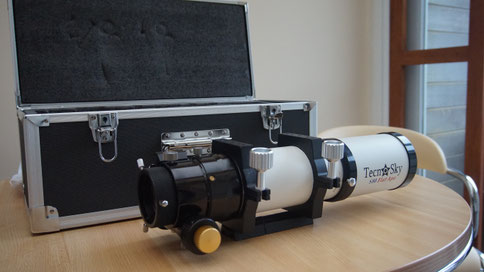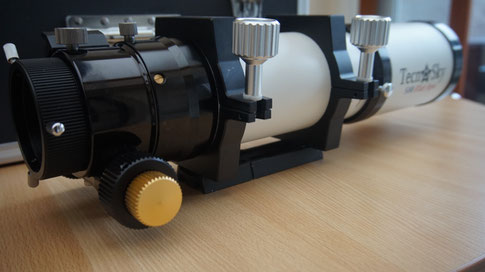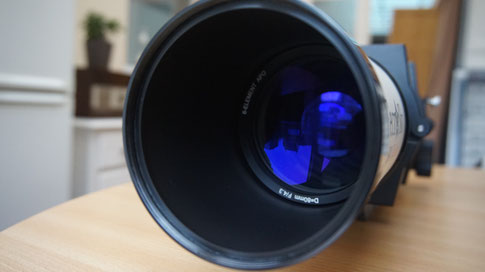 Review:
The good people at Astromarket advised me to go for this sweet piece of optical equipment, and I have not regretted it for a single day. Having taken numerous deepsky pictures with this telescope and my (unmodded) DSLR-camera over the last few months, I  can honestly say it does what it is supposed to do and so much more. The focal ratio is fast, which allows me to get pretty nice images over a short period of exposure time. The star fields in the images are flat as can be and the colors are pretty amazing. Along with the specially designed diagonal, I was able to get some detail whilst trying to spot the Orion nebula. (be it in a much darker place than my back yard) This telescope is quite sturdy in design, with CNC rings that are up to the task. It has a retractable dew shield, which also helps to prevent stray light from entering the tube and messing up your exposures. The scope is delivered with a hard metal case with foam lining and a special marker and cloth to "clean" the optics. (I am not really a fan to do this however. Keep in mind that the lenses are coated.) 
Overall:
-Optics:        5/5 - No remarks here. The optics are just great.
-Design:       4/5 - Microfocusing is a breeze. The telescope is quite unforgiving when it comes to backfocus.
-Portability: 4/5 - Included hardcase is a blessing. It does remain quite heavy and bulky to move it around a lot. 
-Price:          5/5 - Its price is in the right range for a beginner astrophotographer (about 1.400 euro's)
-Service:     N/A - Have not had any complaints or problems that needed solving with this article.
---
Skywatcher Skymax 180 PRO Maksutov-Cassegrain
Specifications: 
           - Maksutov-Cassegrain telescope
           - Aperture 180mm
           - Focal length 2700mm
           - Focal ratio 15
Used for:
This telescope is also dubbed the 'planet killer', and for good reason. The images seen through this marvellous piece of equipment are spectacular. I have peered at Jupiter and her moons for hours on end and explored the craters on the moon with great detail. The design is basically a combination of a reflector and a refractor telescope. It uses a primary mirror in combination with a lens to be able to shorten the OTA considerably. Ideal for observation or planetary photography. This telescope replaces the Nexstar 6SE, which I have sold.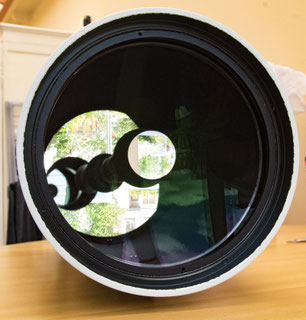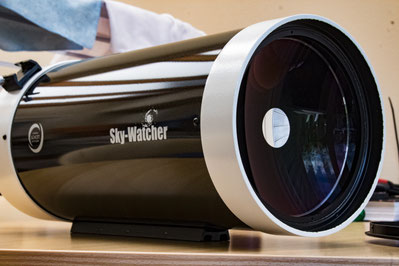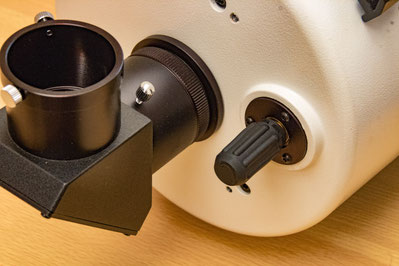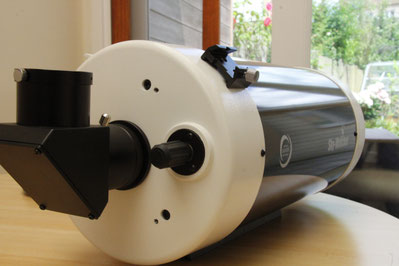 Review: 
After some considerations, I have decided to buy this telescope to replace the Nexstar 6SE. Especially the large aperture and long focal length added to the decision. The views of the moon and planets are simply breathtaking and the first tests in planetary photography proved to be very promising. On the other hand, this scope is a lot heavier than the Celestron Nexstar 6SE and it takes a good 45 minutes (as opposed to 15 minutes on the Nexstar) of cooldown time. This is not as much of a problem, as you can just place it outside well before the observing session begins. Its size and weight make it a bit tedious to move around, but it is certainly worth it taking this one to a dark site. 
Overall:
Optics:        5/5 - Skywatcher quality
Design:       4/5 - A bit on the heavy side and cooldown time increased (due to the nature of this telescope)
Mobility:     3/5 - Scope of delivery does not include a hardcase, which makes it a bit tedious to move around
Price:           5/5 - In this category, it is the ideal "bang for the buck-telescope"
Service:      N/A - I have no experience with the Skywatcher service
---
Skywatcher Skymax MC 102/1300
Specifications:
          -Maksutov Cassegrain
           -Aperture 102mm
           -Focal Length 1300mm
           -Focal Ratio 12.7
Used for: 
I bought this nifty little telescope to take with me on holidays. (by airplane) The OTA fits perfectly in my hand luggage and it is certainly light enough (1.8kg) to be mounted on a standard camera tripod. It is delivered with a carry case and a red dot finderscope. Observing the heavens is a delight with this little marvel of a telescope. The views of Jupiter and Saturn lived up to my expectations.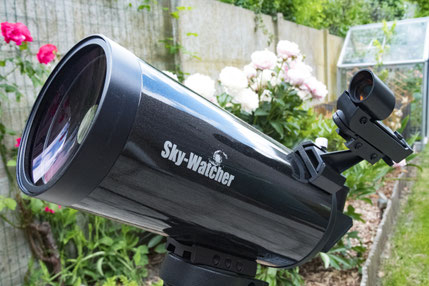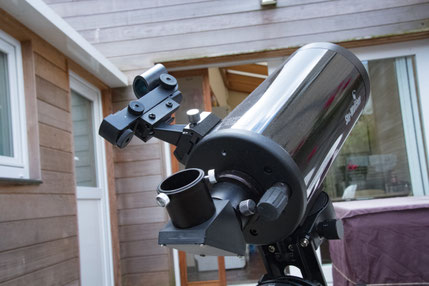 Overall:
Optics:      5/5 - Skywatcher quality
Design:     5/5 - Sturdy OTA - good focuser
Mobility:   5/5 - Only 1.8kg. Delivered with a carry case. Ideal for travels or as Grab'nGo telescope at home
Price:         5/5 - About 250 euro's. Good price/quality-ratio 
Service:     N/A - As of yet, I have no experience with the Skywatcher service
---
Orion 80mm f/5 ShortTube
+ Rings and Dovetail
Specifications:
       - Achromatic Refractor
        -Aperture 80mm
        -Focal length 400mm
        -Focal Ratio 5.0
Used for:
This telescope is mounted next to my imaging scope with the sole purpose of guiding. To achieve long exposures on the main camera, the telescope mount needs guiding to accurately keep track of a certain star. This is done by connecting a guiding camera to the guidescope, which is, in turn, connected to a laptop. A guiding program, such as PHD (Press Here Dummy) will focus on a star and keep that star centered in view by sending corrections to the telescope mount.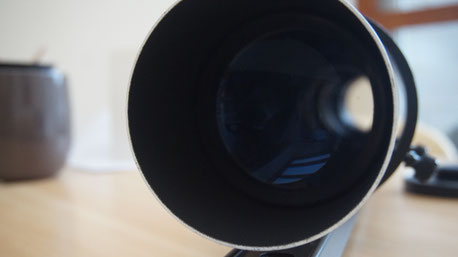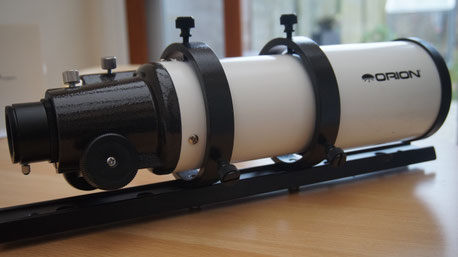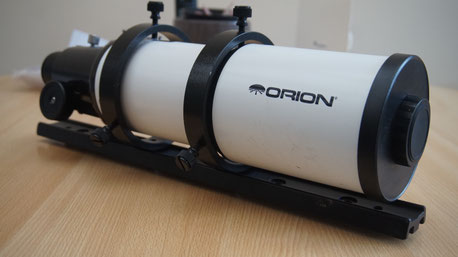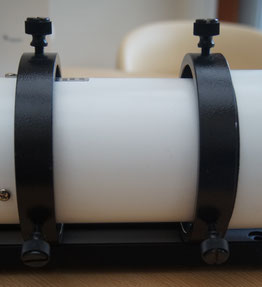 Review:
As for this telescope, I only use it for guiding, so the optics are not that important here. Since it is an achromatic scope, I reckon it would create too much chromatic aberration to do any photographic work with it. For visual it could be better, though I have not tried it. As for its job in guiding, the telescope works well, but the design leaves a lot be desired. It is quite a thin aluminium shell, which is not really that big of a deal, however the rings that secure it to the vixen type dovetail are in plastic with plastic screws. These tend to mess up my guiding rig if not checked now and then. I might replace those.
Overall:
Optics:        4/5 - They do what they are supposed to do.
Design:       2/5 - It is not meant to be a high grade refractor, but the sturdiness could have been a bit better. Focuser is plastic.
Portability: 3/5 - Did not come with a carrying case. It is quite light to move around, but at the same time a bit fragile too.
Price:           5/5 - You get what you pay for. Price is right for a type of scope such as this one. 
Service:       N/A - Not have had dealings with the Orion company yet, but from what I hear they are quite devoted to their customers.
---
Lunt LS50THA/B600 blocking filter
Specifications:
                        - Solar telescope with fine tuning by means of air pressure 
                        - Aperture: 50 mm
                        - Focal Length: 350mm
                        - Focal Ratio: 7
                        - Diagonal: B600 blocking filter 
Used For: 
This little telescope can block about 99% of all incoming sunlight, so all the details become visible. (solar spot, flares, filaments,..)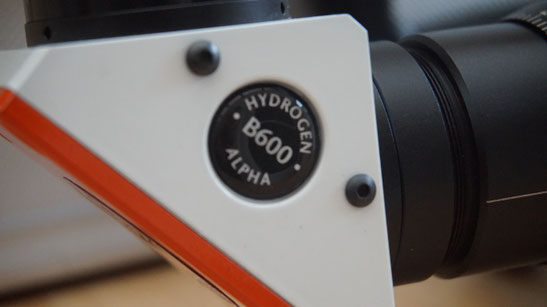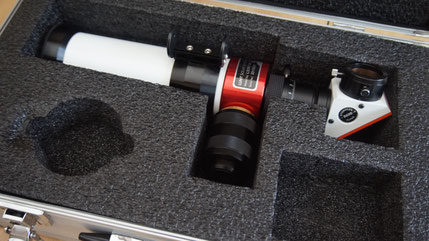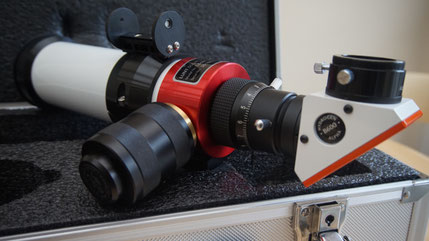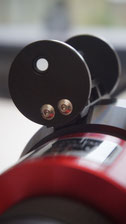 Review:
I bought this scope in the summer of last year due to several months of non-stop cloudy nights here in Belgium. I was so fed up with not being able to practice the hobby , that I decided to study the surface of the sun for a change. It came with a small vixen-type dovetail, which I mounted on my AVX and was ready to go in no time. There were a few things to overcome. The first was to be able to find the sun. You would think it is a piece of cake to point the telescope at the sun, but you would be wrong. That is why Astromarket sold me this little gadget, called a solar finder. (little picture on the right, above this text) It works by reflecting the light of the sun onto a tiny white screen that you can view from an angle. (because looking straight into our star is not a very smart idea) Next was to fine-tune the device correctly, using the dial at the base of the diagonal and turning the metal focuser to change the air pressure inside the scope. It took me about 10 minutes to get it right, but the result was great. Although the sun did not show very much detail at the time, I could clearly see the different sunspots and by turning the knob I got to see the filaments as well. To image the sun I simply connected my ASI120MC to it and shot multiple videos to stack them later on in Registax. (See: tutorial: How to image the sun). Now, you might already know this, but please do note that you should NEVER point a regular telescope at the sun. Just think of what the sun can do to a colony of ants through a magnifying glass. 
Overall:
Optics:        4/5 - The details are nice, but would be even better with a dual stack filter. However this costs as much as the scope itself.
Design:       4/5 - It is made from high quality parts. It does take some time to learn how to focus it. 
Portability: 5/5 - It is compact and quite light to move it around. It is delivered with its own metal case. 
Price:          4/5 - A quite expensive device, especially when you want to go for a double stack filter.
Service:     N/A - Did not have any issues with it, but I am sure Astromarket will present me with a solution if I do.  
---
Schmidt-Cassegrain 6" - Celestron Nexstar 6SE
Specifications:
                          - Reflector
                          - Aperture 150 mm
                          - Focal Length: 1500 mm
                          - Focal Ratio: 10 
Used for:
- Visual : Moon, Jupiter, Mars, Saturn
- Photography: its slow focal ratio makes it ideal for capturing the planets of our solar system.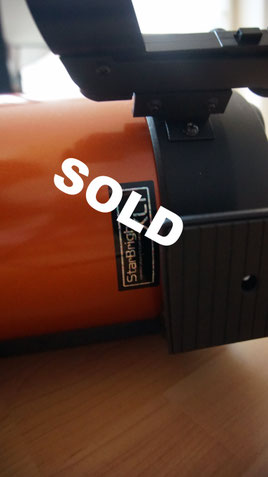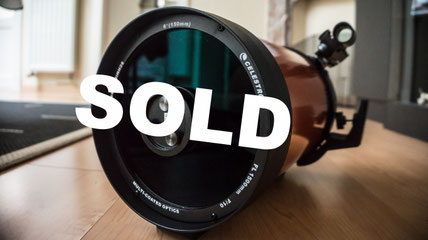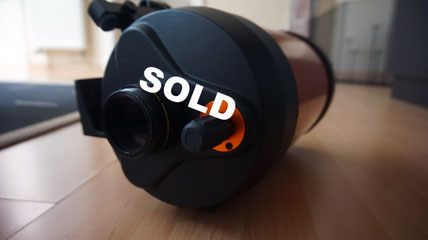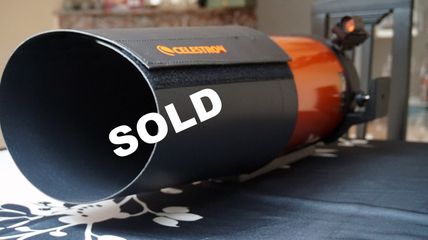 Review:
As this was my first ever telescope, I really did not have anything to compare it with. In retrospect, it has been quite an eye-opener. This nifty telescope showed me my first ever live view of Jupiter and its moons. When connecting a DSLR-camera to it, the detail on the moon is amazing. It is well designed and holds collimation quite well (had to collimate it once a year). The standard focuser does its job, but cannot be compared to a microfocuser for example. As I became more interested in doing deepsky photography, I also purchased a special focal reducer (by Meade), which happens to be produced in the same factory as the Celestron counterpart (bit of a difference in price). But even with this reducer, doing deepsky work was not really an option. Over longer periods of exposure time, I noticed a bit of mirror shift. Celestron has overcome this issue in the higher end models (the Edge HD-series) by introducing a mirror-locking system. This scope is okay in my book, but I need to take it out further and do some planetary photography to give a more detailed review. 
Overall:
-Optics:        5/5 - The mirrors and corrector plate (with special coating) are of very high quality
-Design:       4/5 - Focuser is less suited for photography. Holds collimation fairly well.
-Mobility:     4/5 - The OTA barely weighs a few kilo's, which makes it easy to handle. Not delivered with a case of bag.
-Price:           4/5 - Not the cheapest in the mid-range, but the ratio price/quality is quite good.
-Service:       3/5 - The Celestron website clearly is built for commerce, rather than ease of use.
---